Landscape Photos, Page 6
(Best viewed at 1280 x 1024 pixels screen resolution)
---

(12/20/07) In this view of the 30-feet wide Bell Street lot from the campground boat launch, the extent of the damage to the Tyvek can be seen.
---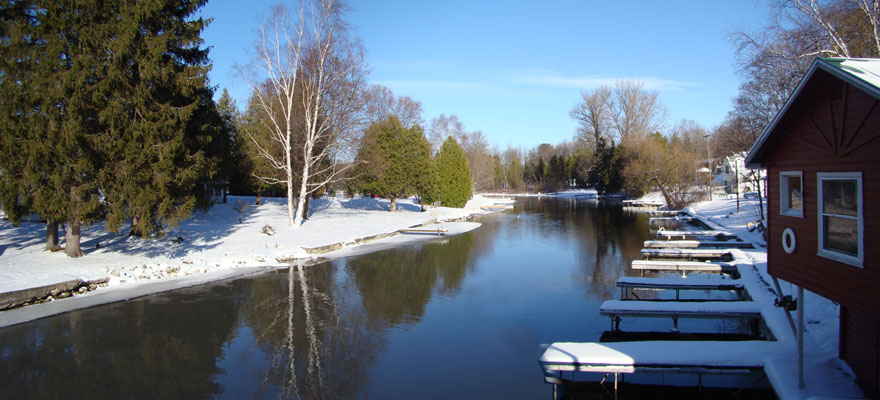 (12/10/07) The river is starting to form a crust of ice along the edges, but the current should keep anything but a thin layer from forming all the way across. This eliminates the need to remove docks for the winter.
---

(12/22/07) After several warm days, with temperatures as high as 42º, we've lost most of the lake ice. Tomorrow the weather is supposed to turn colder with fresh snow.
---

(12/17/07) The ice is expanding and thickening, but no one has walked out on it yet except for the birds.
---

(12/10/07) Three days after the shot below, the ice has progressed significantly. The clear ice in the foreground formed after the snow stopped a day and a half ago.
---

(12/07/07) This was taken looking south from the town dock parking area. The river current will keep the lake from freezing near the bridge, although the open area should be much smaller by February. Snowmobiles should be able to drive down on the ice from this point and circle over to the boat launch ramp. I'll add photos every couple of weeks or so to keep track of the freezing.
---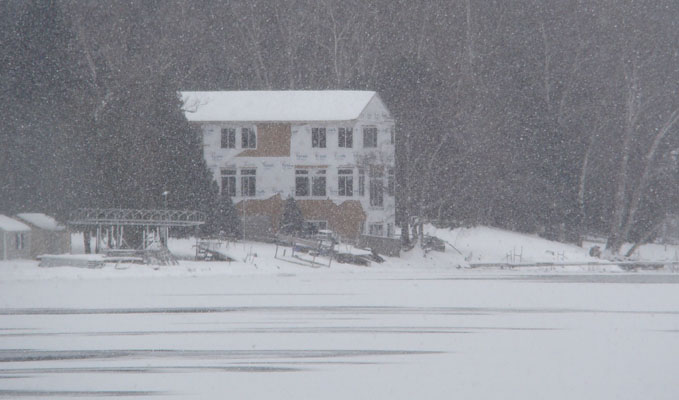 (12/05/07) There has been no progress on the 30-feet wide Bell Street lot for months. You can see that the Tyvek is being gradually torn away by the wind.
---

(11/28/07) These Wild Turkeys (Meleagris gallopavo) were feeding in Jeff and Lisa's field this morning.
---

(10/21/07) This is a panorama shot of Mile Point on Intermediate Lake taken from the Shahan compound.
---

(10/21/07) Here's a farm on Buhland Road, between Torch and Intermediate Lakes.
---