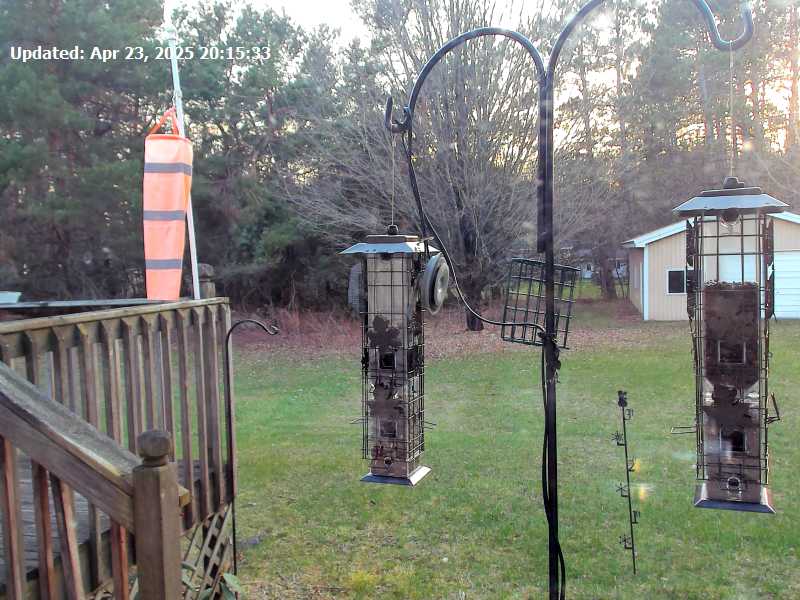 (3/4/2021) Intermediate Lake
water level
6.54 feet, air
hi/lo/dew
temp 27°/18°/18°
This is the live web cam shot of my backyard on Intermediate Lake Road in Central Lake. In winter I have a snow depth gauge installed. To view road conditions, you can click the Bellaire Street Cam, Eastport Road Cam, and Streaming Webcams buttons on the right. The picture is updated every ten seconds during daylight hours until I turn the camera off around sunset. You can email me with any questions or comments.



(3/4/2021) Temperatures won't go above freezing today, but dry conditions will remain.

(3/1/2021) As a sign of spring approaching, I've turned on the Hummingbird button below the Snowfall button. Zeroing in on the map, you can see that birds have already been spotted in Texas, Mississippi, and Florida. They usually arrive in Central Lake by the first week of May.


| | |
| --- | --- |
| (2/9/2021) The St. Clair River south of Port Huron has iced up in the past week. If you click the Freighter Cams button you can see live streaming of the Coast Guard icebreakers clearing the way for the few tankers and freighters still running. Click the thumbnail to view the Coast Guard tug Biscayne Bay docked for the night at Algonac. | |
| | |
| --- | --- |
| (12/21/2020) On the first day of winter, the Emerald Isle departed Charlevoix for its final trip to Beaver Island at 11:30 AM. Click the thumbnail to enlarge. | |