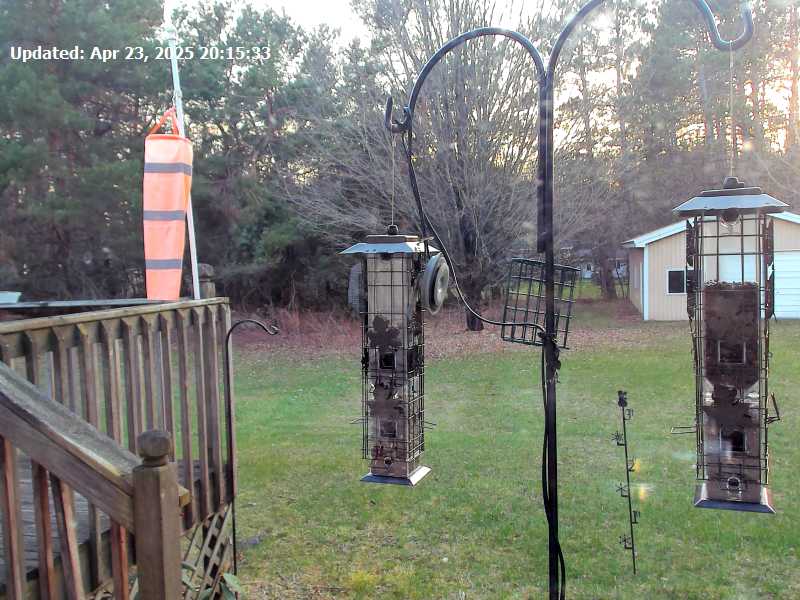 Intermediate Lake water level 7.01 feet (8/21/2019) water temperature 73° (8/20/2019) air hi/lo/dew temp 75°/52°/66° (8/21/2019)
This is the live web cam shot of my backyard on Intermediate Lake Road in Central Lake. In winter I have a snow depth gauge installed. To view road conditions, you can click the Bellaire Street Cam, Eastport Road Cam, and Streaming Webcams buttons on the right. The picture is updated every five seconds during daylight hours until I turn the camera off around sunset. You can email me with any questions or comments.



(8/21/19) The rest of the week should be mostly sunny, with rain possibly starting Monday.


| | |
| --- | --- |
| (5/25/19) The hummingbirds were late to arrive at my feeders this year, but they're coming every day now. Click on the thumbnail to enlarge. | |
| | |
| --- | --- |
| (5/18/19) Baltimore Orioles have been feeding off orange halves that I put out. Click to enlarge. | |
| | |
| --- | --- |
| (4/25/19) Andy Hickman and Paul Winkler installed the two island loon nests yesterday. Andy reports that the loons were waiting near the north nest as they were installing it and were on the platform 30 minutes later. Click on the picture to enlarge. | |
| | |
| --- | --- |
| (4/11/19) Click on the thumbnail to see a couple of late winter pictures of a welcome Northern cardinal and Downy woodpecker and some unwelcome European starlings. | |